Empower Network Compensation Plan
If you have been feeling confused or just haven't had a chance to watch the video for the Empower Network Compensation plan, then we will break it down for you step by step.
The picture above is from the Fight The Forces of Evil Empower Network event in San Diego, CA where David Wood broke down the compensation plan and showed us exactly how to make huge, 70% commissions. You should really see how big the checks are from these commissions in such short time of existence.
Empower Network Comp Plan Guidelines
There are a few things it takes to become a full Empower Network affiliate and be able to gain resale rights for all of the Products and Upgrades. We will break down the steps on how to GO ALL IN and joining the affiliate program and getting your merchant account setup.
How To Become An Affiliate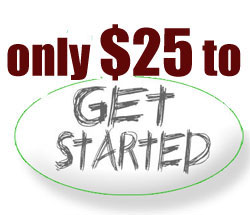 To become an Affiliate for Empower, there are a few things you must do first so that you can become qualified to sell the products to others. You need to actually sign up at minimum the $25 Blogging System level.
As explained on the post on the home page of http://mlmempowered.com/ there are 5 empower network products that you can buy and gain resell rights to sell to new customers.
While yes, these are products that you gain the resell rights to, the products themselves are phenomenal and well worth the money. You can read on our Empower Network Products post about each of the products in depth.
Owning these products is the first step. Because if you do not own one of these products or upgrades, you can not sell to others and you will lose out on a lot of money.
You will see exactly how you will lose this money below. By going ALL IN and owning all of the Empower Network upgrades, you will not miss out on the payments from new members.
Payment Processors
In order to become an affiliate for Empower Network, you need to get a merchant account. There are only a few payment processors that Empower Network will allow. Their in-house payment processor is called eWallet which is backed by Allied. This is the merchant account that most members choose to use. Most use this because payments are handled a lot quicker and questions are answered a lot quicker because it is all handled by Empower Network.
Here is the breakdown of why you should use eWallet:
In-House Payment Processor
Handles Questions and Issues Faster
98% Approval Rate (Credit Score doesn't Matter)
All Countries that Empower Network Does Business with is Approved
Instant Approval
Access To Money Faster – In-house Transfers & Access to Transaction History
Low Cost To Use – $19.95 per month
As you can see, there are lot of benefits to using the in house payment processor. But just in case you do not want to use these, there are a few other companies that Empower Network recommends; Authorize.net & LinkPoint Gateway.
These are both good companies to use, but Dave said that sometimes transactions and approval can take a little longer. And it depends how much money you are transferring in and out of these other two merchant accounts sets the amount of how much you will be paying each month to use their service.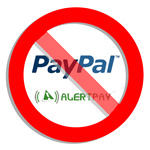 There are two companies that are no longer allowed to be used as payment processors; PayPal and AlertPay. This is due to these companies not liking Network Marketing companies and the fact that they continued to shut down members accounts due to the amount of funds transferred into the accounts.
Email System
Empower Network is setup with its own lead capture and emailing system all inside your back-office. While it is a good system and you can email all of your leads at once, there are better email marketing companies out there that provide better services and statistics. The two companies that Empower recommends is Aweber and GetResponse.
Both are very trusted companies that serve a large number of the online marketing community. We personally use Aweber and feel it is the best of the two choices. There are other email marketing companies out there, but these two can be synced to your Empower Network account so all leads will be automatically transferred.
Empower Network Comp Plan Breakdown
Now that you have signed up for a merchant account and are a full Empower Network affiliate, we will break down the Empower Network payment structure. We have made examples that will help illustrate just how easy it is to follow the compensation plan.
By Not Going ALL IN… You LOSE Money!
Losing money is never easy… Or is it? In this example you will see just how easy it is to lose money inside of the Empower Network compensation plan by not going ALL IN. Because of the way the payment structure was setup, it is best for new members to go ALL IN so that they do not lose money when they bring in new members.
As you can see in the example below, Matt has gone ALL IN With Empower Network and has purchased all the upgrades. He bought the $25 monthly, $100 monthly, $500 one time, and the $1000 one time payment programs. Matt soon found out how easy it is to get new members signed up by following the Empower Network 8 Core Steps and has signed up Sally.
Sally has only decided to join at the $25 monthly and $100 monthly levels but tells herself that she will buy the $500 and $1000 upgrades at a later date. Well after following the 8 Core Steps Sally has now signed up Chris, who is extremely excited about this network marketing company and the 70% commissions.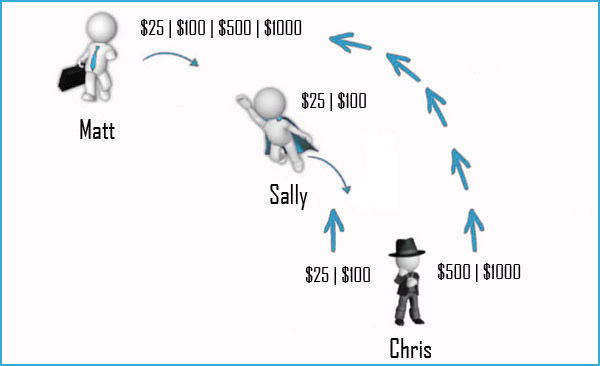 Chris being the badass that he is, has went ALL IN and bought all the Empower Network products and upgrades. His $25 and $100 monthly payments will go directly to Sally since that is all she is qualified to resell. His one time payments of $500 and $1000 will skip over Sally and go directly to Matt!
Not only will Sally get emails for about the $25 and $100 per month sales, she will also receive an email saying she just lost a $500 and $1000 sale. That is a very hard email to read. And that is one of the nice things about Empower Network. 75% of the time, when Sally gets that email saying she just lost a sale of $500 and $1000 they will go and buy the products themselves so they don't lose out on any more sales. Which means more money for Matt!
And just to add another note, if Matt and Sally had not bought the $500 or $1000 upgrades, Chris' purchase would have went to the next available member that is qualified to sell those products. It could skip 1 level or go up 10 levels to find the next available member.
The 2, 4, 6, & Every 5th Rule
The 2, 4, 6 and every 5th rule is exactly how the Empower Network compensation plan is structured. It is a pretty simple and easy pay structure to follow. Whats awesome about this structure is the fact that it keeps everyone motivated and encourages members to go ALL IN (do it now, if you have not).
If we take a look at the illustration below, you will see that YOU have decided to join Empower Network and have already brought in your first personally enrolled member; John. Little did you know, but John is a powerhouse and has brought in a lot of new members.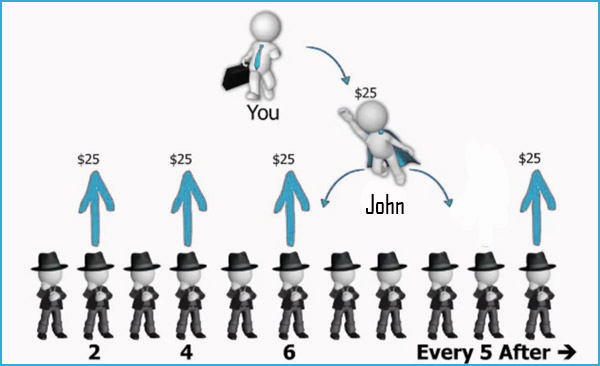 To keep things simple in the example lets keep it at $25 level. As you can see with John's first signup, the money will go directly to John. But his 2nd, 4th, and 6th signup passes over John and goes directly to YOU. This is what we call a Powerline Passup. Once John has brought in 6 new members he is now on the fast track because 4 out of 5 new signups will go directly to him; John.
So you just have to remember, when signing up as a new affiliate or bringing in a new empower network member the sponsor will be getting the 2nd, 4th, 6th, and then every 5th sale (11th, 16th, 21st, 26th, etc signup). And this happens for all Empower Network products.
Empower Network Powerline Passup Sales
Just like we talked about in the last example, a Empower Network Powerline Passup sale is a powerful thing. It doesn't only happen on 1 level, but it can be from any level. Just like a sale can be skipped up to another level to the first qualified member with resale rights and it can stay with them for the rest of the time they are a member of Empower Network.
If you take a look at the example below using just the $25 level, YOU have just signed up John. John followed the 8 Core Steps and signed up 2 members each day. John's 2nd, 4th, 6th, and 11th sale was passed up to YOU the sponsor since you are all qualified at the $25 Empower Network Blogging System level.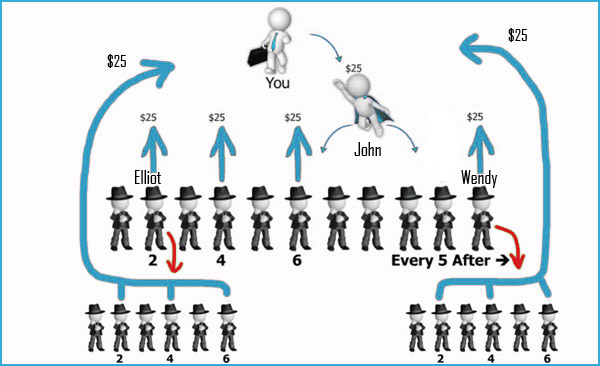 Elliot, which is John's 2nd signup, has been passed up to YOU and so has John's 11th signup; Wendy. These are now YOUR members for your Empower Network life.
Both Elliot and Wendy go into beast mode and get a quick 6 signups. And since they are now yours, their 2nd, 4th, 6th signup gets passed all the way back up to YOU!
Just in this example here YOU have built a $275 monthly residual income. Now just picture when you add a $100 monthly, $500 one time, $1000 one time, and a $3000 one time payment!
If all these members went ALL IN, it would be worth a total of $50,875 the first month and $1,375 residual. Now that is a powerful thought. For more visit Chad Nilsson's Empower Network site.
RESULTS ARE NOT TYPICAL – SEE OUR AVERAGE EARNINGS DISCLOSURE
Click the button below to learn more about Empower Network